Teaching Customer Research in Tegucigalpa

BIMA Mobile provides affordable insurance and mobile health services for low-income families with the goal of disrupting the global insurance industry and fueling financial inclusion.
Objective. BIMA contracted me to provide guidance on customer research in two areas:
First, the head of customer insights wanted to create a customer research guide for local program staff on the ground in diverse global locations such as Lahore, Pakistan, and Tegucigalpa, Honduras.
Second, BIMA wanted to develop two tailored surveys that would help them learn more about their customers.
Approach. We began the project with a workshop at BIMA's head office to discuss the topics of the survey. Finally we decided on two research questions:
What is the financial impact of a health crisis for BIMA customers? How do BIMA customers currently manage these impacts?
What is the product purchase journey for BIMA life insurance customers? Are they comfortable using mobile during that journey?
I designed two surveys in partnership with BIMA staff and prepared them for testing on the ground.
To develop the customer research guide, I interviewed BIMA program managers about their customer research needs. The guide focuses mainly on survey methodology (BIMA's primary data collection method), but also covers qualitative research including in-depth interview methodology. Below is an example of the guide's contents: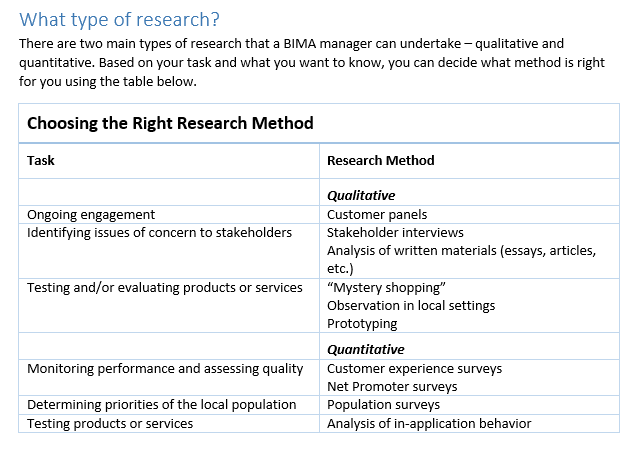 Results. I flew to Tegucigalpa, Honduras to BIMA's local program office to prototype the customer research guide and the two surveys. I asked the local staff to use the guide to test one survey, including selecting the sample size and contacting a small sample of respondents to test the survey questions.
I was also able to train the local staff to conduct their own in-depth interviews by teaching the concepts and then watching them conduct their own interviews.
Based on staff and survey respondent feedback, I made changes to both the surveys and the guide. The local staff successfully tested all the materials and are now confident conducting their own research without depending on the head office.