Improving Patient Experience in Mexico City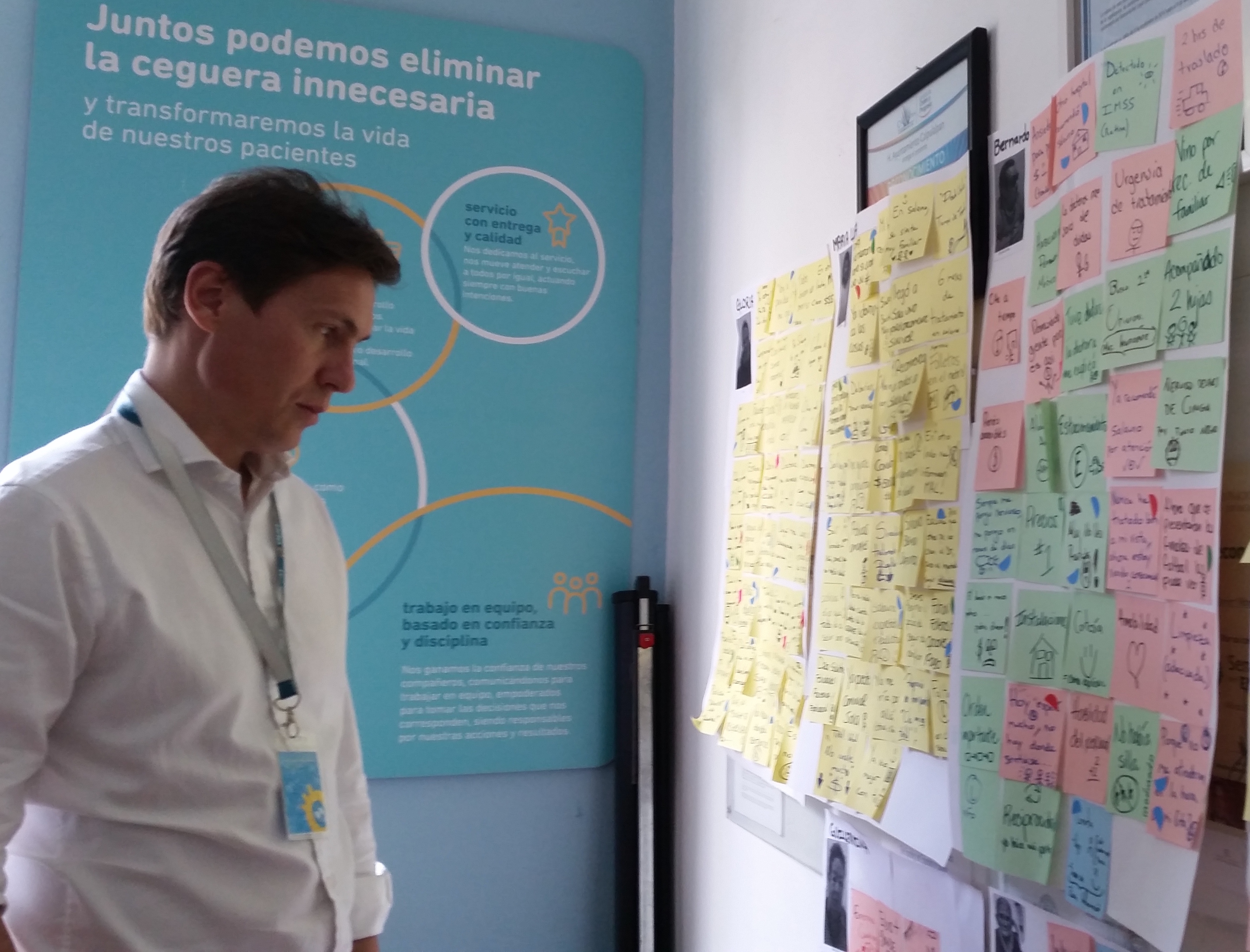 Salauno, an ophthalmology clinic in Mexico City, Mexico, asked for help improving their patient experience. On the whole, their patients (mostly elderly sufferers of cataracts and glaucoma) were satisfied, but the founders wanted to go above and beyond and discover what really mattered to them and how they experienced the clinic.
Cataracts are the second leading cause of vision impairment in Mexico, causing 50% of blindness cases. Many Mexicans are unable to afford cataract surgery at private hospitals and there is a large backlog of patients at public hospitals. By replicating many principles from Aravind Eye Care (India), Salauno provides cataract surgery at one-third to one-half the cost of competitors, giving sight to thousands of Mexicans.
Objective. The head of performance improvement wanted to implement a classic design thinking methodology and teach her team how to do similar projects in the future. The catch - Salauno was a growth-stage startup so they wanted to move fast. In six weeks we turned around results that would drive their new customer-focused company strategy.
Results. We began by briefing the core operations team and a larger team of stakeholders including operations staff, nurses, and doctors. We conducted in-depth interviews with 18 patients from a variety of categories that were of interest to the team. Each member of the core team watched me interview and then conducted with own interviews while I took notes and coached them afterward. We also analyzed previously collected NPS data and went to local locations that had excellent customer service and ambiance to observe.
I created a user journey map to help the team understand the path of patient from hearing about Salauno through their care following surgery.
We presented data from each patient to the wider leadership team in the form of a gallery wall. Then we analyzed the qualitative data to generate How Might We questions and insights.
Next I conducted a brainstorming session for the wider team. This coalesced into a set of concepts that the team was able to vote on and create an action plan for how they would prototype. Using Lean Startup methodology, we spent two weeks prototyping with patients and staff to observe their reactions.
Results. From our insights, we distilled three primary categories for patient satisfaction: being treated like family, clarity of the process, and feeling confident in the decision to proceed with surgery. Salauno used the results of the project to launch their new initiative, WOW Salauno.
The team was able to use our insights to create an internal marketing video to promoting the new initiative across all of Salauno's surgery locations.
The team was also able to fully implement concepts we prototyped, including written and video materials that explain clinic processes to patients and marketing materials that celebrate patient recovery.