Growth & Marketing Strategy for a Social Enterprise Startup in Peru
X-runner Venture sells a clean, composting toilet to people without access to running water outside Lima, Peru, led by a recognized social entrepreneur and leader in sanitation.
Objective. X-runner, like most social enterprises, was constantly challenged to navigate its triple bottom line structure. The CEO was looking for an update of the strategic growth plan and a new financial model that would better reflect the current state of the business.
During my MBA, I wanted to complete a social innovation project (which is one of the reasons I chose IE for business school). Through the Emzingo fellowship, I travelled to Lima, Peru to map a growth strategy and create a new financial model for X-runner. After my stay in Peru, I continued with X-runner as a consultant to address a marketing strategy need that I uncovered during my work in Lima. You can check out X-runner's concept in the video below:
Approach. I began the project with interviews of all of X-runner's staff, asking general questions about the state of the business and specific questions about operations, marketing, sales, and accounting practices. I also rode along with X-runner as they performed weekly door-to-door sales and waste collection. I conducted visioning workshops with leadership to clarify their vision for the future of the social enterprise and workshops with staff to prototype potential changes. Through this research, I was able to make specific recommendations for process improvements and growth opportunities.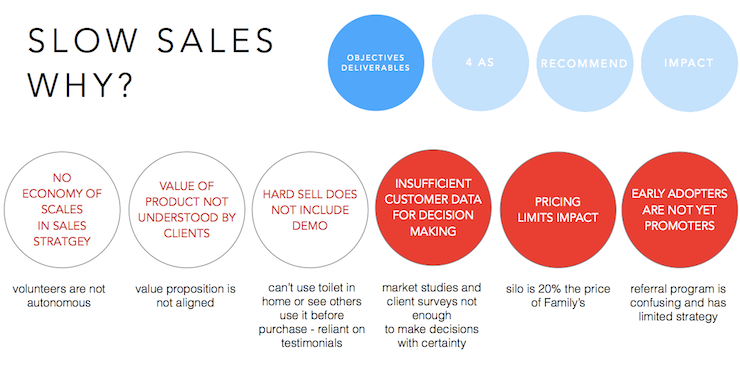 Next, I tackled X-runner's sales and marketing strategy. The CEO had a goal to increase sales and growth was not as fast as she hoped. At that time, sales were conducted door-to-door using books that showed potential customers how the toilet works. By observing this process and listening to residents, I quickly realized that most people needed to see the toilet before committing to purchase. In marketing parlance, a toilet is an "experiential product" (ahem) but it's not exactly something we're going to share with our friends.
When X-Runner brought the toilet to a community event, residents were initially skeptical because available products are sometimes poorly made in Peru. One misconception about the "bottom of the pyramid" is that because they lack resources they will accept anything. No way! These are savvy consumers looking for quality and they know how to squeeze a dollar until it screams.
One resident asked, challengingly, if the toilet would hold the weight of her husband. At this point our driver Marco, who let's just say is clearly an aficionado of all the delicious food Lima has to offer, plunked down on it with aplomb, declaring "Yes it will!" The approving murmurs of the crowd sealed the deal. Bringing the toilet into these neighborhoods, although logistically difficult, helped residents to understand fully how it works and to trust that it is sturdy and reliable, thereby increasing sales.
Results. I created a strategic growth plan and developed a new financial model including predicted cash flows and breakeven analysis of sales growth. Through analysis of market data and customer feedback, I also made pricing recommendations with the goal of increasing sales. X-runner's CEO was able to use these deliverables to guide the business forward and use the design principle of product tangibility to increase sales of its product.